Patient Brochure
---
---
Intended for the waiting or examining room, this patient information brochure promotes the significance of certification and the benefits of care provided by a Certified Vein Specialist. The two-sided brochure (tri-folded 8 1/2 " x 11", 100 lb. gloss stock) can also be used as a mailer individually to patients or referring physicians.
Brochures are shrink-wrapped and sold in bundles of 100. There is space available on the back for personalization with diplomate information (by affixing labels, not included).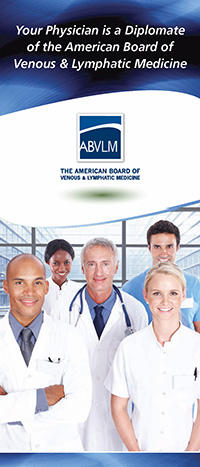 Topics covered include:
What is venous and lymphatic medicine?
What is the ABVLM?
How does a physician become a diplomate of the ABVLM?
Lifelong Learning and Assessment
Support quote from the AMA
Click here to view a sample of the brochure.
Shipping & Handling Costs
100 brochures = $10
200 brochures = $13
300 brochures = $15
400-700 brochures = $20
800-1500 brochures = $25
For orders of more than 1500 brochures, please contact the HQ Office.
California orders will be charged local sales tax.
6 pages. © 2013 The American Board of Venous & Lymphatic Medicine